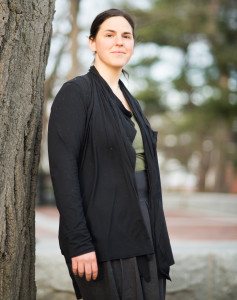 Specific, deep, focused work using a blend of Craniosacral, Myofascial, and  Neuromuscular techniques

Trained in Craniosacral Therapy

Specialize in treatment of TMJ disorder, Headache/Migraine relief, and neck/shoulder pain.  
I completed my undergraduate studies in Cultural Anthropology with a focus in Medical Anthropology at Boston University. Fascinated by the plethora of ways different cultures think about illness, wellness, and the body, I wanted to learn more and gain tools to help people live the fullest lives possible.
Soon after graduating, I began my professional studies at Cortiva Institute of Massage in Watertown.  I went on to study Craniosacral Therapy with Upledger Institute, learning techniques to "listen" to the body and facilitate deep releases of tension as well as specific techniques to relieve TMJ-disorder and headaches.  I use this approach to pinpoint where pain and restriction are coming from in order to work deeply and efficiently.
I approach every session with curiosity and compassion for both you and your body.  I'm here to help you reach your healthcare goals, whether that means regaining range of motion after an injury, getting relief from tension headaches, easing jaw tension, treating carpal tunnel syndrome or thoracic outlet syndrome, relieving shoulder and back pain, easing sciatica, or just being more relaxed and in tune with your body.
I love to dance, rock climb, practice yoga, hike, and bike around town.  That hasn't always been the case.  I grew up being much more sedentary and in a lot of pain from inactivity and poor posture.  I didn't start being active until after college, and found that I needed to learn and practice extensive self-care and schedule regular massages to keep my body healthy and free from injury. After completing a course in 2013 in Mindful Based Stress Reduction, I've continued to meditate regularly and practice a number of different styles of meditation, from compassion-based Metta meditation to more body-centered practices.  I am passionate about sharing all that I've learned with my clients to help you become more free from pain and restriction in your body.
When I'm not massaging, I can be found blues dancing, folk singing, creatively cooking, or going on outdoor adventures throughout New England.